Music news
Maria Sharapova rocks a low-key knit on NYC outing with millionaire boyfriend Alexander Gilkes...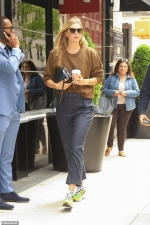 8 of May 2019 г.
She was due to be competing at the Italian Open, but was forced to withdraw due to a right shoulder injury.
And Maria Sharapova was trying to enjoy her recovery, stepping out with her boyfriend Alexander Gilkes in New York City on Wednesday to enjoy some shopping.
The tennis ace, 32, wore a casual brown knit and menswear inspired cropped trousers as she strolled along, coffee in hand.
British millionaire William, who she was first linked to last year, carried several purchases in one hand.
The art auctioneer - who speaks fluent Russian - has royal connections since he went to Eton with Prince William and Prince Harry.
He famously employed Princess Eugenie as a manager at his auctions house and still counts her among his good friends.

FM-TV

УСІ НОВИНИ УКРАЇНСЬКОЮ ТУТ

ВСЕ НОВОСТИ ПО-РУССКИ ЗДЕСЬ
другие новости
8 of May 2019 г.

With Ryan Reynolds' new movie Detective Pikachu hitting
theaters on May 10, the comedic actor jokingly pointed
out a 'leak' of his movie...
8 of May 2019 г.

George Clooney joked that he 'got nothing' for his
birthday during a chat show appearance Tuesday in Los
Angeles...
7 of May 2019 г.

As celebrities took their best stab at camp for the 2019
Met Gala this Monday, Demi Moore marched to the beat of
her own drum...
7 of May 2019 г.

Harry Styles delighted fans as he arrived at the Met
Gala 2019 at the Metropolitan Museum of Art in New York
on Monday...
7 of May 2019 г.

After last attending the Met Gala in 2013, Gwen Stefani
pulled out all the stops for her triumphant return to the
annual...
10 of May 2019 г.

As Game of Thrones fans await the last two episodes of
the series, and Taylor Swift fans await her new album...
10 of May 2019 г.

And following his role as Captain America in Avengers:
Endgame...
10 of May 2019 г.

She channeled Lil Kim at the 'camp' themed Met Gala
earlier this week...
10 of May 2019 г.

He's surprised fans in recent days with his unusual
choice of outfits...
10 of May 2019 г.

On Wednesday she revealed the name of her baby son after
giving birth to her first child on Sunday evening...