Music news
Michael Douglas spotted with Emily Osment as they film The Kominsky Method Season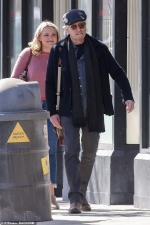 10 of April 2019 г.
Michael Douglas was all smiles while spotted filming Season 2 of The Kominsky Method in Los Angeles on Tuesday.
The 74 year old actor and his 27 year old co-star were spotted walking on the streets of Los Angeles, spotted alongside several crew members.
Production started in late January in and around Los Angeles, though there was no indication as to when the season may premiere yet.

FM-TV

УСІ НОВИНИ УКРАЇНСЬКОЮ ТУТ

ВСЕ НОВОСТИ ПО-РУССКИ ЗДЕСЬ
другие новости
10 of April 2019 г.

Yet Rachel McCord also drew attention to her incredible
physique in the stunning snaps as she donned...
10 of April 2019 г.

He brought his girlfriend to Los Angeles with his
family. And Brooklyn Beckham looked very cosy with his
ladylove Hana Cross at the Twenty party...
10 of April 2019 г.

She's been left inconsolable after receiving threatening
messages from the late Rana Habeeb...
10 of April 2019 г.

Chris Hemsworth voiced his fears his private snaps of
his brother Liam's secret wedding to Miley Cyrus would...
11 of April 2019 г.

She is the musician of the moment who welcomed her first
daughter four months ago...
11 of April 2019 г.

Three-time Grammy winner Pink revealed she made it easy
for her husband Carey Hart planning her Valentine's Day
gift this year...
11 of April 2019 г.

She never fails to turn heads with her sensational sense
of style...
11 of April 2019 г.

Beyonce and Jay-Z led the cavalcade of celebrity hot
couples at the Roc National pre-Grammy brunch in Los
Angeles this Saturday...
11 of April 2019 г.

They remained friends throughout his ill-fated
relationship with Angelina Jolie...
9 of April 2019 г.

The Walking Dead fans have been speculating about a
secret Star Wars cameo on the hit AMC show...