Music news
Chris Hemsworth feared 200 of his private photos from Liam's secret wedding to Miley Cyrus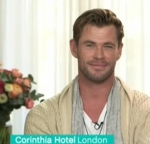 10 of April 2019 г.
Chris Hemsworth voiced his fears his private snaps of his brother Liam's secret wedding to Miley Cyrus would be leaked after being accidentally sent to a tourist.
The actor, 35, recounted the drama when he gave a video interview to Ruth Langsford and Eamonn Holmes on This Morning on Wednesday.
Chris got developed the photographs at an Australian photo shop who accidentally sent the pictures to Elvira Nordström, 21.

FM-TV

УСІ НОВИНИ УКРАЇНСЬКОЮ ТУТ

ВСЕ НОВОСТИ ПО-РУССКИ ЗДЕСЬ
другие новости
10 of April 2019 г.

Yet Rachel McCord also drew attention to her incredible
physique in the stunning snaps as she donned...
10 of April 2019 г.

She's been left inconsolable after receiving threatening
messages from the late Rana Habeeb...
11 of April 2019 г.

Beyonce and Jay-Z led the cavalcade of celebrity hot
couples at the Roc National pre-Grammy brunch in Los
Angeles this Saturday...
8 of April 2019 г.

She's fresh from the set of Saturday Night Live, where
she joined her Game Of Thrones co-star Kit Harington for
a fun-filled appearance...
15 of April 2019 г.

Festival-goers at Coachella Sunday night got a surprise
performance from Katy Perry. The singer, 34, took the
stage during...
5 of April 2019 г.

Anne Hathaway took to Instagram on Thursday to defend her
new movie Serenity after critics excoriated the neo-noir
thriller...
5 of April 2019 г.

Adam Collard has hinted that there's more to his tiff
with Ferne McCann at this year's National Television
Awards than meets the eye...
4 of April 2019 г.

He's still riding high on the success of his multiple
award-winning movie, A Star Is Born...
17 of April 2019 г.

She's been busy in recent weeks filming her new TV series
with Gabrielle Union...
2 of April 2019 г.

She's no stranger to showing off her sculpted curves.
Kim Kardashian posted a photo to Instagram on Monday
showing herself in a high cut...