Music news
Rita Ora makes a bold style statement in quirky all-denim look as she steps out in New York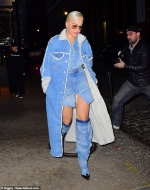 9 of August 2019 г.
It was recently reported she's rekindled her relationship with musician ex-boyfriend Andrew Watt, five months after their split'.
But Rita Ora opted for a solo outing as she stepped out for a stroll around New York City on Sunday evening.
The Anywhere hitmaker, 28, maintained her style savvy ways as she rocked denim fabric head-to-toe, featuring an elaborate floor-length coat with fluffy interior.

FM-TV

ВСЕ НОВОСТИ ПО-РУССКИ ЗДЕСЬ

ALL NEWS IN ENGLISH HER
другие новости
9 of August 2019 г.

He was previously known for his clean-cut appearance.
But Tom Hiddleston looked worlds apart from his former
self as he sported...
9 of August 2019 г.

She's been busy preparing for the Spice Girls' reunion
tour in the Summer. And despite her busy schedule, Mel C
enjoyed...
9 of August 2019 г.

Bradley Cooper represented his hometown of Philadelphia
while heading to a beach party in Malibu on Sunday
afternoon...
9 of August 2019 г.

She has received critical acclaim during her ten seasons
on the hit sitcom Modern Family...
8 of August 2019 г.

Barbra Streisand left James Corden fearing for his life
when she confessed she failed her driving test renewal
three times during...
8 of August 2019 г.

Angelina Jolie celebrated her daughter Shiloh's 13th
birthday, which happened to fall on Memorial Day...
8 of August 2019 г.

She most recently starred in the Netflix zombie series
Black Summer. And on Sunday, Jaime King lent her support
to the new...
8 of August 2019 г.

They were in New York City last week to attend the Sesame
Street Workshop Gala...
8 of August 2019 г.

She showed off a striking pale pink suit in Verona,
Italy, last week as she shot a campaign for fashion label
Calzedonia...
12 of August 2019 г.

Daniel Craig has confessed that he's become an expert
drinker since becoming James Bond...