Music news
Geri Horner looks stern as she emerges for the first time since Spice Girls bandmate Mel B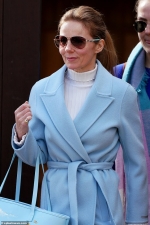 30 of March 2020 г.
During filming for Piers' Life Stories last week, Spice Girl Mel B, 43, confessed to having sex with Geri Halliwell.
And on Monday morning, Ginger Spice, 46, was spotted for the first time since the racy admission hit the headlines over the weekend.
The singer was seen leaving her North London home on Monday morning, before heading into the city, clad in a chic pastel blue trench coat and a cream ribbed polo-neck frock.

FM-TV

ВСЕ НОВОСТИ ПО-РУССКИ ЗДЕСЬ

ALL NEWS IN ENGLISH HER
другие новости
30 of March 2020 г.

The Grammy-winner, 71, had to cancel his show at the
Amway Center in Florida as he was dealing with an ear
infection that left him...
30 of March 2020 г.

They sparked romance rumours after leaving a slew of
flirty messages in the comments section of each...
30 of March 2020 г.

The 38-year-old looked ravishing in red as she arrived at
Santa Monica's historic luxury hotel, Casa Del Mar...
31 of March 2020 г.

Britney Spears is one of many celebs self-quarantining at home during the growing
coronavirus pandemic.
And the Grammy winner's ...
31 of March 2020 г.

Billie Eilish's family shared their tips for getting through the coronavirus epidemic on
Homefest: James Corden's Late Late Show Special ...
31 of March 2020 г.

Sam Smith was all about the music when they headed out for a walk on Monday
afternoon with their headphones on. ...
31 of March 2020 г.

Dani Dyer headed to her local post office to send off a parcel on Monday afternoon
amid the coronavirus lockdown...
31 of March 2020 г.

Harry Styles has sent his fans into overdrive after
teasing a new project with a link to a mysterious
website...
1 of April 2020 г.

Ellen DeGeneres shared a shot from her high school prom on Instagram Tuesday, as
she encouraged her viewers to do the same...
1 of April 2020 г.

He revealed earlier this week that he had been left stranded in California and unable
to fly home to the ...