Music news
Andie MacDowell reveals she still has a 'huge bond' with Hugh Grant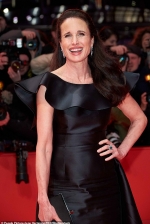 28 of November 2019 г.
Andie MacDowell has opened up about being emotional while filming the sequel to Four Weddings And A Funeral and working with a then lesser known Hugh Grant.
The actress, 60, starred alongside Hugh, 58, in the perennially popular 1994 film and reunited this year for the Comic Relief sequel.
Speaking to Radio Times, Andie admitted she and the rest of the crew would often tease Hugh about the car he used to drive.

FM-TV

УСІ НОВИНИ УКРАЇНСЬКОЮ ТУТ

ВСЕ НОВОСТИ ПО-РУССКИ ЗДЕСЬ
другие новости
28 of November 2019 г.

Her struggles with alcohol addiction have been well
documented. But Real Housewives Of New York star
Luann...
29 of November 2019 г.

She's been busy preparing for the Spice Girls' reunion
tour in the Summer. And despite her busy schedule, Mel C
enjoyed...
29 of November 2019 г.

Blake went with a more casual look than his partner,
mixing a simple pair of dark blue jeans with a classy...
29 of November 2019 г.

She's become known for her transformative and challenging
film roles. Lily Collins dove into her recent...
27 of November 2019 г.

Adele has broken her Twitter silence, having not posted
to the micro-blogging site since December 31 2018.
The Chasing Pavements...
26 of November 2019 г.

A judge sentenced a Grammy-winning producer to two
years in prison Monday for fraudulently using credit
cards belonging to his clients, including Bebe Rexha...
26 of November 2019 г.

Ian McKellen has discussed why he chose to come out of
the closet at the age of 49 in 1988, and why he hid his
sexual orientation for so long...
26 of November 2019 г.

Justin Timberlake and Alisha Wainwright were back on set
together in New Orleans Monday after they were spotted...
26 of November 2019 г.

Tom Hanks says Mr. Rogers helped teach him how to listen
better. The two-time Academy Award winner, 63, appears...
25 of November 2019 г.

Lady Gaga's heavily redacted deposition as part of the
ongoing legal battle between Kesha...