Music news
Lady Gaga sinks to her knees as she takes her Academy Award for Best Song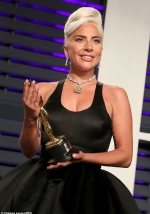 14 of May 2019 г.
A triumphant Lady Gaga showed off her coveted Academy Award as she finished what was arguably the greatest night of her glittering career at the Vanity Fair Oscars party.
The singer and actress was in a jubilant mood as she attended the event, hours after her rousing performance of Shallow in A Star Is Born won her the Oscar for Best Song.
Making a memorable entrance at Beverly Hills venue Wallis Annenberg Centre for the Performing Arts, Gaga, 32, sunk to the red carpet while holding her award aloft.
другие новости
14 of May 2019 г.

Tara Reid celebrated Valentine's Day on Thursday with a
very themed ensemble as she enjoyed dinner at Madeo...
14 of May 2019 г.

Courtney Love has left a heartbreaking comment
underneath a picture of the late Kurt Cobain...
14 of May 2019 г.

Andie MacDowell has opened up about being emotional while
filming the sequel to Four Weddings And A Funeral and
working...
14 of May 2019 г.

She recently marked a milestone in her career after
directing her first feature length film...
13 of May 2019 г.

They're hot on the promotional trail for the latest film
in the Marvel Cinematic Universe, Avengers: Endgame...
17 of May 2019 г.

Kanye West's one-time friend and associate Malik Yusef
has been accused of forging the singer's signature in a
$2.5 million...
17 of May 2019 г.

She's been a professional actress since the age of 13.
But Jessica Alba spoke about recently taking a break...
17 of May 2019 г.

Britney Spears has revealed she's still super smitten
with her personal trainer boyfriend...
17 of May 2019 г.

Paris and Nicky Hilton attended Rihanna's annual Diamond
Ball in NYC on Thursday night...
10 of May 2019 г.

As Game of Thrones fans await the last two episodes of
the series, and Taylor Swift fans await her new album...