Music news
Tara Reid celebrates Valentine's Day with racy red lace stockings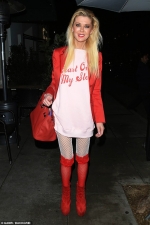 14 of May 2019 г.
Tara Reid celebrated Valentine's Day on Thursday with a very themed ensemble as she enjoyed dinner at Madeo in Beverly Hills,
California
, on Thursday night.
The American Pie star, 43, put on a leggy display in white fishnet tights and racy red lace stockings over the top.
Tara teamed the accessories with an oversized baby pink jumper dress with red font on it, which she layered with a red blazer.

FM-TV

УСІ НОВИНИ УКРАЇНСЬКОЮ ТУТ

ВСЕ НОВОСТИ ПО-РУССКИ ЗДЕСЬ
другие новости
14 of May 2019 г.

Courtney Love has left a heartbreaking comment
underneath a picture of the late Kurt Cobain...
14 of May 2019 г.

A triumphant Lady Gaga showed off her coveted Academy
Award as she finished what was arguably...
17 of May 2019 г.

Britney Spears has revealed she's still super smitten
with her personal trainer boyfriend...
10 of May 2019 г.

And following his role as Captain America in Avengers:
Endgame...
10 of May 2019 г.

He's surprised fans in recent days with his unusual
choice of outfits...
10 of May 2019 г.

On Wednesday she revealed the name of her baby son after
giving birth to her first child on Sunday evening...
20 of May 2019 г.

She bid an emotional farewell to her Game of Thrones
character Sansa Stark ahead of the show's much-
anticipated finale on Sunday...
20 of May 2019 г.

She's been busy lately promoting her big screen film
Tolkien and her small screen Netflix movie Extremely
Wicked, Shockingly Evil and Vile...
8 of May 2019 г.

She was due to be competing at the Italian Open, but was
forced to withdraw due to a right shoulder injury...
7 of May 2019 г.

Harry Styles delighted fans as he arrived at the Met
Gala 2019 at the Metropolitan Museum of Art in New York
on Monday...