Music news
Milo Ventimiglia says 'it doesn't really matter' that This Is Us was completely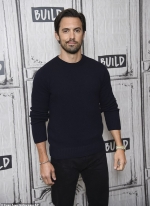 17 of November 2020 г.
He was theoretically at Build in New York to discuss his new movie Second Act.
But on Wednesday Milo Ventimiglia was also asked about his show This Is Us, which was recently completely ignored by the 2019 Golden Globes nomination committee.
The 41-year-old took to the stage wearing a simple navy blue sweater and black trouser combination.
His brunette locks were gelled and parted on the left, while his copious facial hair was trimmed to a scruffy length.
A chunky silver and gold wristwatch and a thick chain bracelet appeared to be the heartthrob's only accessories.

FM-TV

УСІ НОВИНИ УКРАЇНСЬКОЮ ТУТ

ВСЕ НОВОСТИ ПО-РУССКИ ЗДЕСЬ
другие новости
17 of November 2020 г.

The Oscar-winning actress, 44, said she 'couldn't be more
excited' as she's set to headline two romantic comedies
for the streaming service, titled Your Place Or Mine...
17 of November 2020 г.

Black Panther cowriter and director Ryan Coogler shared
a tribute to the late Chadwick Boseman on Sunday...
16 of November 2020 г.

He currently leads the Showtime miniseries The Good Lord
Bird as the abolitionist John Brown, who led...
19 of November 2020 г.

She's seven months along in her second pregnancy.
And on Wednesday, Kelly Rowland showed off her growing
baby bump as she twinned...
19 of November 2020 г.

Four celebrities remain to compete for the Mirrorball
Trophy on the season finale of ABC's Dancing With The
Stars on Monday...
19 of November 2020 г.

Draya Michele on Wednesday dazzled in a wintry white
ensemble as she filmed her docuseries Doses...
19 of November 2020 г.

Keeping Up with the Kardashians star Kim Kardashian West
turned 40 on October 21 and yet, a month later, she's
still sharing almost...
13 of November 2020 г.

James Franco got some fresh air and exercise while going
on an afternoon hike with girlfriend Isabel Pakzad.
The 42-year-old actor...
13 of November 2020 г.

14 years after launching her career on the G4 network's
flagship series Attack of the Show, Olivia Munn is
reportedly returning home...
13 of November 2020 г.

Denise Richards fled another group dinner after calling
her castmates 'Mean Girls', but returned at the begging
of a producer on Wednesday's episode of RHOBH...