Music news
Samantha Morton gives The Walking Dead fans a first look at her shaved head as she prepares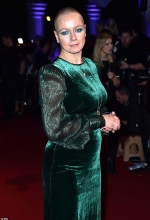 4 of December 2018 г.
Samantha Morton has given fans a first look at her shaved head as she prepares for a new role in long-running show The Walking Dead.
The British actress will make her debut as Alpha, fearsome leader of the primitive, ritualistic and highly dangerous Whisperers, when the post-apocalyptic show's ninth season continues in January.
And the bald head required to fill the role was on show as she made an appearance at the 21st British Independent Film Awards at London Old Billingsgate with daughter Esme Creed-Miles on Sunday evening.

FM-TV

УСІ НОВИНИ УКРАЇНСЬКОЮ ТУТ

ВСЕ НОВОСТИ ПО-РУССКИ ЗДЕСЬ
другие новости
4 of December 2018 г.

Production is under way on director Rian Johnson's new
crime drama Knives Out, with the first photos...
4 of December 2018 г.

And Victoria Beckham had all eyes on her as she stepped
out to support husband David Beckham...
4 of December 2018 г.

The 48-year-old superstar looked incredible in an extreme
plunging white gown with glittering embellishment as she
performed...
4 of December 2018 г.

And Dua Lipa, 23, has opened up about her thoughts on
feminism, saying she doesn't believe it is 'man-hating'
and...
5 of December 2018 г.

She insisted she is 'so busy' running her empire and
doesn't have time to date following her split from her
fiancé Chris Zylka...
5 of December 2018 г.

Miley Cyrus has been hit with heartbreak once again as
it was reported her storage unit in the San Fernando
Valley was broken into...
5 of December 2018 г.

Paris and Nicky Hilton attended Rihanna's annual Diamond
Ball in NYC on Thursday night...
5 of December 2018 г.

The most glamorous names in Hollywood slipped on white
hot gowns for the 70th annual...
5 of December 2018 г.

Dolph Lundgren has revealed he used to have group sex
with Grace Jones and 'four or five' other women - but
complained it left him too tired for work...
3 of December 2018 г.

Halsey has slammed Victoria's Secret after the lingerie
brand's chief marketing officer made insensitive comments
about transgender models...