Music news
Samantha Morton gives The Walking Dead fans a first look at her shaved head as she prepares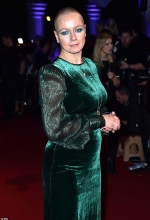 4 of December 2018 г.
Samantha Morton has given fans a first look at her shaved head as she prepares for a new role in long-running show The Walking Dead.
The British actress will make her debut as Alpha, fearsome leader of the primitive, ritualistic and highly dangerous Whisperers, when the post-apocalyptic show's ninth season continues in January.
And the bald head required to fill the role was on show as she made an appearance at the 21st British Independent Film Awards at London Old Billingsgate with daughter Esme Creed-Miles on Sunday evening.

FM-TV

УСІ НОВИНИ УКРАЇНСЬКОЮ ТУТ

ВСЕ НОВОСТИ ПО-РУССКИ ЗДЕСЬ
другие новости
4 of December 2018 г.

Production is under way on director Rian Johnson's new
crime drama Knives Out, with the first photos...
4 of December 2018 г.

And Victoria Beckham had all eyes on her as she stepped
out to support husband David Beckham...
5 of December 2018 г.

The most glamorous names in Hollywood slipped on white
hot gowns for the 70th annual...
3 of December 2018 г.

She's believed to be in the midst of a high-profile
romance after being linked to A-list actor Andrew
Garfield last week...
3 of December 2018 г.

She arrived for the Pre-Fall 2019 Versace presentation in
a stunning red dress that molded itself to her
fabulous...
3 of December 2018 г.

So it was no wonder Justin Bieber looked absolutely
delighted as he headed to relax with a spa appointment...
6 of December 2018 г.

She made history by becoming the first model with
vitiligo to walk in the Victoria's Secret Fashion Show
last month...
6 of December 2018 г.

The 57-year-old actress will be held at a inpatient
treatment facility for an indefinite period, according to
Radar...
6 of December 2018 г.

Katherine Jenkins has confirmed her Carousel co-star
Alfie Boe did write the C-word across a poster of her in
an 'upsetting' incident...
6 of December 2018 г.

She burst onto the Hollywood scene as the breakout star
of The Coen Brothers' True Grit in 2011, before embarking
on a successful singing and acting career...