Music news
Cher admits she's 'immature and feels like an older teenager' as she reveals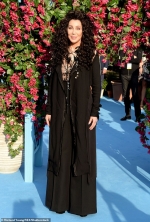 4 of November 2020 г.
She's regarded as the reigning Goddess of Pop ever since she hit the music scene in the 60s.
And five decades on, Cher has revealed she feels 'immature and like an older teenager' at 72 in an interview with Heat magazine.
The legendary singer also shared the secrets behind her enviably youthful figure, insisting she works out more than ever before.

'Even though me and my girlfriends have responsibilities, I don't see any of us as grown-ups, but more like older teenagers. I think having fun keeps your soul young', she explained.
Cher also spoke about maintaining her slender physique: 'I work so hard every day, harder now than ever. I've been working out forever.'

FM-TV

УСІ НОВИНИ УКРАЇНСЬКОЮ ТУТ

ВСЕ НОВОСТИ ПО-РУССКИ ЗДЕСЬ
другие новости
4 of November 2020 г.

Britney Spears fans are in for a treat as she is set to
release a mostly unheard song at midnight on Friday.
The song, Moon Ring, was previously...
4 of November 2020 г.

Tyra Banks has some very big shoes to fill when she hosts
season 29 of Dancing With The Stars after veterans Tom
Bergeron and Erin Andrews were let go...
4 of November 2020 г.

Emmy Rossum added a much-needed explanation to the
viral
black and white challenge, which has gone viral on
Instagram...
4 of November 2020 г.

Brad Pitt had quite the day, after he received a
surprise Emmy nomination for one of his shortest roles
yet...
5 of November 2020 г.

She played legendary Washington Post publisher Katharine
Graham in Steven Spielberg's 2017 film The Post...
5 of November 2020 г.

Gymnastics legend Simone Biles is hitting back at a
conservative Christian group for spearheading a petition
calling...
5 of November 2020 г.

On Wednesday, Rumer Willis rocked a David Bowie T-shirt
on her way to a Hollywood nail salon, which were
permitted to reopen at 25% capacity...
5 of November 2020 г.

But Chrissy Teigen found one super cute way to distract
viewers on Wednesday...
5 of November 2020 г.

She may be falling for the handsome Dale Moss on this
season of The Bachelorette. But off camera, Clare Crawley
is apparently not doing so well...
3 of November 2020 г.

Megan Fox has slammed her estranged husband Brian Austin
Green for 'feeding' rumours that she is...