Music news
Cheryl makes a dig at 'f***er' ex Liam Payne as she releases sneak peek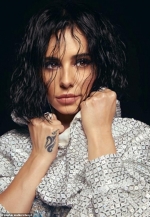 4 of June 2019 г.
Cheryl released an exciting teaser of her new single, Love Made Me Do It on Instagram on Tuesday morning, as she made a dig at ex Liam Payne.
The 35-year-old shared a non-lyric based clip to Instagram, simply writing: '#LoveMadeMeDoIt, alongside a heart emoji, including the release date, 09.11.2018.'
And a press release for the single, revealed the playful lyrics: 'Oh my god, I'm such a sucker, I fall in love with every f***er.

FM-TV

ВСЕ НОВОСТИ ПО-РУССКИ ЗДЕСЬ

ALL NEWS IN ENGLISH HERE
другие новости
4 of June 2019 г.

He's an iconic star of stage and screen, and was handed a
knighthood in 1991...
4 of June 2019 г.

He was previously known for his clean-cut appearance.
But Tom Hiddleston looked worlds apart from his former
self as he sported...
4 of June 2019 г.

Golden Globe nominee Jennifer Lopez defiantly gave a
double-fisted single-finger salute while shooting a
courthouse scene on the Manhattan...
4 of June 2019 г.

Last weekend, Shriver threw the bridal shower for her
daughter and it was attended by a bunch of celebrity...
5 of June 2019 г.

And Catherine Zeta-Jones looked every inch the a-lister
as she touched down at New York's JFK...
5 of June 2019 г.

And Evan Ross and his wife Ashlee Simpson made sure they
made bold fashion statements to attend...
5 of June 2019 г.

Victoria Beckham's whirlwind tour of Qatar contend on
Thursday morning as the fashion designer made...
5 of June 2019 г.

David Beckham debuted a new inking to add to his
impressive collection while attending the latest
Adidas...
5 of June 2019 г.

The Pulitzer Prizes were handed out during a luncheon at
Columbia University on Tuesday, and attendees were
treated to a surprise performance by Jennifer Hudson...
3 of June 2019 г.

She showed off a striking pale pink suit in Verona,
Italy, last week as she shot a campaign for fashion label
Calzedonia...