Music news
Daniel Craig reveals he's become a master of binge drinking in a bid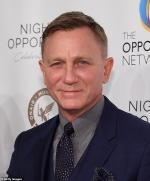 3 of May 2019 г.
Daniel Craig has confessed that he's become an expert drinker since becoming James Bond as he fears being snapped by fans in the pub.
The 50-year-old, who has fronted four 007 films since 2006, joked his A-list celebrity status has taught him to drink '18 pints in a half an hour' in attempt to stop movie-lovers from recognising him in his local.
According to the Daily Star, he said: 'I've got this window of opportunity in pubs of about 30 minutes.

FM-TV

ВСЕ НОВОСТИ ПО-РУССКИ ЗДЕСЬ

УСІ НОВИНИ УКРАЇНСЬКОЮ ТУТ
другие новости
3 of May 2019 г.

Former One Direction bandmates Liam Payne and Louis
Tomlinson are joining forces for a Gogglebox special
which will air during Stand Up...
3 of May 2019 г.

She recently graced the big screen in the sequel
Mama
Mia! Here We Go Again...
3 of May 2019 г.

She's no stranger to dazzling in stunning ensembles on
camera and at high-profile events...
2 of May 2019 г.

Dolph Lundgren has revealed he used to have group sex
with Grace Jones and 'four or five' other women - but
complained it left him too tired for work...
2 of May 2019 г.

Simon Cowell has revealed he's already preparing his son
Eric, four, to inherit his music and TV empire...
2 of May 2019 г.

Ariana Grande stepped out with some extra height in her
step, thanks to some custom Nike platform sneakers...
2 of May 2019 г.

And Melanie Griffith was mixing things up when she
stepped out for dinner in West Hollywood on Monday...
2 of May 2019 г.

She was a 'mane attraction' at Thursday afternoon's
Moschino show...
6 of May 2019 г.

Some fans of Britney Spears have been subscribing to the
conspiracy theory that the pop star is being controlled
against her will...
6 of May 2019 г.

He's chairing this year's star-studded Met Gala
extravaganza alongside Serena Williams and Lady Gaga...