Music news
Paris Hilton sparkles in a pink feathery gown as sister Nicky Hilton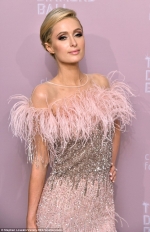 5 of December 2018 г.
Paris, 37, sparkled in a pink feathery gown, while Nicky, 34, dazzled in a sheer strapless dress with cascading ruffles.
The star-studded gala, hosted by Issa Rae, benefited the Clara Lionel Foundation—a non-profit organization dedicated to assisting impoverished communities across the globe.

FM-TV

УСІ НОВИНИ УКРАЇНСЬКОЮ ТУТ

ВСЕ НОВОСТИ ПО-РУССКИ ЗДЕСЬ

другие новости
5 of December 2018 г.

She insisted she is 'so busy' running her empire and
doesn't have time to date following her split from her
fiancé Chris Zylka...
5 of December 2018 г.

Miley Cyrus has been hit with heartbreak once again as
it was reported her storage unit in the San Fernando
Valley was broken into...
5 of December 2018 г.

The most glamorous names in Hollywood slipped on white
hot gowns for the 70th annual...
5 of December 2018 г.

Dolph Lundgren has revealed he used to have group sex
with Grace Jones and 'four or five' other women - but
complained it left him too tired for work...
6 of December 2018 г.

She made history by becoming the first model with
vitiligo to walk in the Victoria's Secret Fashion Show
last month...
6 of December 2018 г.

The 57-year-old actress will be held at a inpatient
treatment facility for an indefinite period, according to
Radar...
6 of December 2018 г.

Katherine Jenkins has confirmed her Carousel co-star
Alfie Boe did write the C-word across a poster of her in
an 'upsetting' incident...
6 of December 2018 г.

She burst onto the Hollywood scene as the breakout star
of The Coen Brothers' True Grit in 2011, before embarking
on a successful singing and acting career...
6 of December 2018 г.

Olivia Colman, Claire Foy and Emily Blunt are just three
of the British talents who received Golden Globe
nominations on Thursday...
4 of December 2018 г.

Production is under way on director Rian Johnson's new
crime drama Knives Out, with the first photos...