Music news
Gazprom cuts gas transit through Ukraine by 9.2% since beginning of year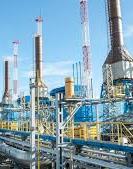 4 of May 2018 г.
In the period from January to April, the transit of gas through the territory of Ukraine amounted to 27.7 billion cubic meters, which was 9.2% less than for the same period last year.


This was reported by the press office of PJSC Ukrtransgaz.
"The volume of gas transportation from the Russian Federation to European countries and Moldova through Ukraine amounts to 27.7 billion cubic meters. Since the beginning of the year the transit volumes decreased by 2.8 billion cubic meters, or 9.2%, compared to the same period in 2017," the report reads.
At the same time, Ukrtransgaz notes the growth of transit in April, when the volume of transit grew by 0.3 billion cubic meters, or 3.7%, and amounted to 7.6 billion cubic meters.






FM-TV

УСІ НОВИНИ УКРАЇНСЬКОЮ ТУТ

ВСЕ НОВОСТИ ПО-РУССКИ ЗДЕСЬ
другие новости
4 of May 2018 г.

Meeting of Trilateral Contact Group starts in Minsk...
4 of May 2018 г.

Black Sea Basin countries recognize ports in occupied
Crimea 'closed'...
3 of May 2018 г.

Rose McGowan was snapped leaving a hotel in New York City
on Wednesday in a no-nonsense ensemble...
3 of May 2018 г.

On Wednesday Taylor revealed a new toy she is going to be
deploying at her upcoming tour: the rocket sled...
3 of May 2018 г.

Two days after Miley Cyrus publicly took back her
apology for posing backless on the cover...
3 of May 2018 г.

She's been showcasing her fit figure after losing the 50
lbs she gained for Tully...
3 of May 2018 г.

Kanye West cut a call short to wife Kim Kardashian on
Tuesday to engage in a heartfelt chat with a member of
the paparazzi...
2 of May 2018 г.

Brooklyn Beckham was seen making out with Playboy beauty
Lexi Wood in early April, before even announcing his
split from on-off love Chloe Grace Moretz...
2 of May 2018 г.

She's the bubbly auburn haired beauty who's currently
promoting her new film Woman Walks Ahead...
2 of May 2018 г.

The first promo for Tiffany Haddish's stint as host of
the MTV Movie and TV Awards 2018 is finally here...