News
NATO to approve new package of support for Ukraine, Georgia – Stoltenberg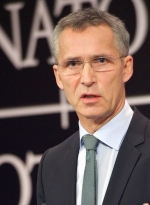 1 of April 2020 г.
Foreign Ministers of NATO Member States will approve new packages of support for Ukraine and Georgia during their virtual meeting on April 2 - Interfax.
NATO Secretary General Jens Stoltenberg said this, while answering a question from Interfax-Ukraine, during an online press conference on Wednesday to present the agenda of the upcoming meeting of NATO Ministers of Foreign Affairs scheduled for April 2 in the format of video conference.
"What I expect foreign ministers to do is to agree a new package of support for Georgia and Ukraine to further strengthen our partnerships, including with exercises in the Black Sea region, which is of strategic importance for NATO," he said.
According to Stoltenberg, the package of support, which will be approved tomorrow, is an additional one to the existing packages.

другие новости
1 of April 2020 г.

Lockdown in Ukraine to be tightened due to quarantine...
1 of April 2020 г.

Airports of Ukraine ask govt for state support due to
suspension of flights amid quarantine...
1 of April 2020 г.

Number of confirmed COVID-19 cases in Ukraine rises to
669...
1 of April 2020 г.

Invaders fire banned mortars in Donbas. One Ukrainian
soldier killed...
2 of April 2020 г.

First coronavirus case recorded in Ukrainian Armed
Forces...
2 of April 2020 г.

Liashko announces mass production of coronavirus tests
next week...
2 of April 2020 г.

JFO Headquarters reports losses among militants in Donbas
over past month...
2 of April 2020 г.

Transit of Russian gas through Ukraine halved in Q1
2020...
2 of April 2020 г.

Ukrainian government expands list of institutions that can
operate during quarantine...
31 of March 2020 г.

Ukrzaliznytsia losses may exceed UAH 6 bln in H1 2020...