News
561 resource centers for inclusive education operate in Ukraine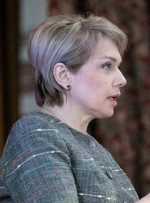 9 of July 2019 г.
Some 561 resource centers for inclusive education have been established in Ukraine, according to Minister of Education and Science Lilia Hrynevych.


"As of June, 561 inclusive-resource centers were created, 87 more inclusive-resource centers are planned to be established by the end of the year," the minister said at the coordination meeting on the issues of education reform, an Ukrinform correspondent reported.
According to Hrynevych, the largest number of such centers was created in Kyiv region, the smallest number in relation to the number of children's population - in Kyiv city. Also, the insufficient network of inclusive-resource centers is in Zakarpattia, Kherson, Dnipropetrovsk, and Lviv regions.




FM-TV

УСІ НОВИНИ УКРАЇНСЬКОЮ ТУТ

ВСЕ НОВОСТИ ПО-РУССКИ ЗДЕСЬ
другие новости
9 of July 2019 г.

Appeals court confirms Ukraine gas tariffs unjustified
for past 2.5 years...
9 of July 2019 г.

High Council of Justice dismisses two judges...
9 of July 2019 г.

Poll: 69% of Ukrainians support accession to EU...
9 of July 2019 г.

Ukraine, EU sign five financial agreements...
10 of July 2019 г.

Six parties may enter Ukrainian parliament – KIIS poll...
10 of July 2019 г.

Zelensky initiates reformed Independence Day
celebrations...
10 of July 2019 г.

U.S. hopes Zelensky will demonstrate independence from
oligarchs...
10 of July 2019 г.

Svitolina wins through to Wimbledon semifinals...
10 of July 2019 г.

Russian-led forces launch 27 attacks on Ukrainian troops
in Donbas...
8 of July 2019 г.

Mariupol, French company sign agreement on improving
drinking water supply for city...