News
Poroshenko to remain in politics regardless of election results – Berezenko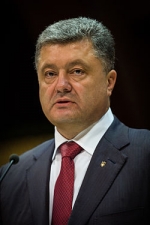 15 of April 2019 г.
Incumbent President of Ukraine Petro Poroshenko will remain in Ukrainian politics regardless of the results of the presidential elections.


Deputy Head of the Bloc of Petro Poroshenko (BPP) faction, Serhiy Berezenko, said this in an interview with the Ukrainska Pravda online newspaper - Ukrinform.
"Poroshenko definitely remains in Ukrainian politics, as well as in its history, regardless of the election results. I am convinced that President Poroshenko will do everything in his power to maintain an international coalition against Russia in support of Ukraine," the politician said.
According to Berezenko, Poroshenko will also use his own diplomatic experience so that sanctions against Russia be kept.
"He certainly will not leave Ukraine and he will help using all means he can," Berezenko stressed.

другие новости
15 of April 2019 г.

Ukraine's Mission to EU welcomes adoption of Gas
Directive amendments...
15 of April 2019 г.

Poroshenko signs law on bankruptcy procedures...
15 of April 2019 г.

Denisova in Moscow meets with relatives of captured
Ukrainian sailors...
15 of April 2019 г.

Ukrainian troops come under mortar, antitank missile
system fire in Donbas...
15 of April 2019 г.

U.S. Navy destroyer enters Black Sea...
16 of April 2019 г.

PGO refutes reports of preparation for attempt on
Zelensky...
16 of April 2019 г.

Ukraine, Slovakia ready to maintain status of main gas
transit countries in EU...
16 of April 2019 г.

Savchenko, Ruban released from custody in courtroom...
16 of April 2019 г.

Government to accumulate about UAH 55 bln for road
reconstruction in 2019...
16 of April 2019 г.

Russian-led forces launch 12 attacks on Ukrainian troops
in Donbas...