News
Ukraine's Cabinet plans to adopt 3,000 European standards this year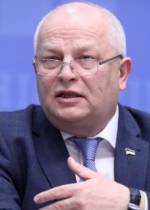 11 of April 2019 г.
Since 2016, the Cabinet of Ministers of Ukraine has abolished 90% of the Soviet all-Union State Standards. Over 5,000 national standards have been elaborated and adopted instead, and the Government plans to add 3,000 more to them this year.


"The free trade agreement with the EU opened up new opportunities for the export of Ukrainian industrial products, but there was much work at the level of technical and technological requirements. Since 2016, we have significantly transformed the system of technical regulation and standardization, in particular 90% of the Soviet all-Union State Standards have been abolished. Instead, we have elaborated and adopted 5,105 national standards and 91% have been harmonized with the EU standards. In 2019, we plan to adopt 3,000 more standards," First Vice Prime Minister, Minister of Economic Development and Trade of Ukraine Stepan Kubiv said, the press service of the Ministry reports.
The First Vice Prime Minister also noted that Ukraine had gained full membership in the Metric Convention since 2018, which opened up additional export opportunities.
"Since we got full membership in the Metric Convention, we have gained recognition of the Ukrainian measurement system and its compliance with international requirements from all 59 member countries of the Convention. It is a prerequisite for Ukraine to acquire full membership in the International Organization of Legal Metrology and to continue work on the conclusion of an Agreement on Conformity Assessment and Acceptance of Industrial Products (ACAA) with the EU," Kubiv said.



FM-TV

УСІ НОВИНИ УКРАЇНСЬКОЮ ТУТ

ВСЕ НОВОСТИ ПО-РУССКИ ЗДЕСЬ
другие новости
11 of April 2019 г.

Russia preparing for full-scale war in Europe, Ukraine
will be first bridgehead...
11 of April 2019 г.

Zelensky's campaign team proposes holding debate with
Poroshenko via link-up...
11 of April 2019 г.

Two Russian police officers ask for asylum in Ukraine...
11 of April 2019 г.

Poroshenko, Zelensky to meet with Macron on April 12...
12 of April 2019 г.

CEO of 1+1 TV Channel Tkachenko to sue Poroshenko...
12 of April 2019 г.

The Russian Investigative Committee has asked Moscow's
Basmanny Court to arrest Anatoliy Hrytsenko...
12 of April 2019 г.

President has dismissed Andriy Hordeyev as chairman of the
Kherson Regional State Administration...
12 of April 2019 г.

Pensions for servicepersons and law enforcers will grow
twofold due to the gradual increase in pension payments...
12 of April 2019 г.

20 ceasefire violations in Donbas. One Ukrainian soldier
killed, eight wounded...
10 of April 2019 г.

European Commission proposes signing of Ukraine-Russia
gas transit contract for next 10 years...