News
Ukrainians celebrate day of national embroidered shirt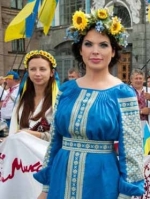 17 of May 2018 г.
Today, on the third Thursday of May, Ukrainians traditionally celebrate Vyshyvanka Day, the day of national embroidered shirt.


It is not an official holiday but is celebrated in Ukraine and abroad by Ukrainians and foreigners who are fond of Ukrainian culture - Ukrinform.
The action dates back to the initiative of students of the History, Political Science and International Relations Department of the Yuri Fedkovych Chernivtsi National University.
Ukrainian embroidered shirt vyshyvanka, along with the Ukrainian traditional Easter egg pysanka, is one of the brightest symbols of Ukrainian culture. Besides, wearing an embroidered shirt, one demonstrates not only its beauty and uniqueness but also confirms belonging to the everlasting Ukrainian cultural tradition.

FM-TV

УСІ НОВИНИ УКРАЇНСЬКОЮ ТУТ

ВСЕ НОВОСТИ ПО-РУССКИ ЗДЕСЬ
другие новости
17 of May 2018 г.

Hug leaves for Donbas...
17 of May 2018 г.

Sweden's IKEA, H&M to enter Ukraine this year...
17 of May 2018 г.

Verkhovna Rada has adopted a law permitting organ
transplantation after the death of the donor...
17 of May 2018 г.

NATO to support Ukraine and continue to exert pressure
on Russia...
18 of May 2018 г.

U.S. calls on Russia to immediately release all Ukrainian
political prisoners...
18 of May 2018 г.

ArcelorMittal Kryvyi Rih on brink of financial crisis...
18 of May 2018 г.

Ukraine honors victims of genocide against Crimean Tatar
people...
18 of May 2018 г.

Court arrests RIA Novosti Ukraine chief for two months...
18 of May 2018 г.

Shelling of Troitske in Luhansk region qualified as
terrorist attack...
16 of May 2018 г.

One Ukrainian soldier killed, another two wounded in
Donbas in last day...