Blogs of FM-TV presenters
Russian court prolongs custodial term of Sentsov for two more months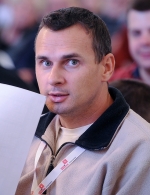 6 of May 2015 г.
Judge of the Moscow City Court Nikolai Tkachuk has prolonged the custodial term of Ukrainian filmmaker Oleg Sentsov till July 11, 2015, alleging as reason that the charged offence poses special public hazard.
The information has been posted on kasparov.ru Russian opposition website, Ukrinform reports.
"Prosecutors and investigators have substantiated the need to prolong preventive measures saying that the defendant and the defense have not yet finished familiarizing with the case materials. During the meeting, the judge has insisted that Sentsov "de jure is a citizen of the Russian Federation", but the defendant has stressed that he is a citizen of Ukraine," the article reads.
Lawyer Dmitry Dinze noted that the defense has not yet familiarized with the report of the investigation on citizenship of the defendant, and the question of nationality is not as clear as it seems to be to the court. Dinze noted that "Sentsov is not a slave to attribute him to another country against his will."
As reported, Moscow's Lefortovo District Court in April 2015 extended Sentsov's remand in custody until May 11 this year.
Ukrainian film director Sentsov was arrested by Russian security service officers in the annexed Crimea in May 2014 together with pro-Ukrainian activists Oleksandr Kolchenko, Oleksiy Cherniy and Hennadiy Afanasyev. They all were charged with preparation of terrorist acts.

FM-TV

УСІ НОВИНИ УКРАЇНСЬКОЮ ТУТ

ВСЕ НОВОСТИ ПО-РУССКИ ТУТ