Music news
Jana Kramer admits she was 'bothered' by ex-husband Johnathon Schaech's decision to tweet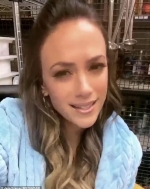 6 of April 2021 г.
Her former husband Johnathon Schaech tweeted a photo from their wedding day last week saying he had to 'explain' it to his son.
And on Monday, Jana Kramer admitted she was 'annoyed' and 'bothered' by the actor's decision to dredge up the past in that way.
The exes were married for a reported 12 days before splitting up in July 2010 and both have gone on to marry other people and start families.

другие новости
6 of April 2021 г.

HBO has given a ten-episode series order to the half-hour
comedy Minx, starring Ophelia Lovibond and Jake Johnson,
as confirmed by Variety on Monday...
6 of April 2021 г.

Katy Perry urged a teenage singer to throw her
microphone and 'make that stage your b****!'...
6 of April 2021 г.

The singer, 36, shared an array of stylish snaps of
herself posing upon a toilet seat in between...
6 of April 2021 г.

She's due to star in a sequel to the blockbuster Marvel
movie Black Panther. And in an interview on...
7 of April 2021 г.

Madonna is reportedly on the verge of quitting her
life
in Lisbon, after publicly revealing she feels 'bored
and
lonely' ...
7 of April 2021 г.

She is set to make her Hollywood movie debut in a
musical
reimagining of Cinderella.
But after filming on the project at Pinewood
Studios...
7 of April 2021 г.

She just released her highly anticipated skincare
line, Fenty Skin, last week.
And Rihanna put her favorite products to use...
7 of April 2021 г.

Miley Cyrus has been busy promoting her infectious
new
track Midnight Sky. But the 27-year-old superstar
put
promotion...
7 of April 2021 г.

While the Real Housewives series have long been
associated with copious amounts of social drinking,
three
of the women from the Bravo...
5 of April 2021 г.

She's been roasted by everyone from late night hosts to
physicians for her very eccentric Goop wellness
products...