Music news
Mariah Carey looks gorgeous in latest post while posing with her daughter Monroe Cannon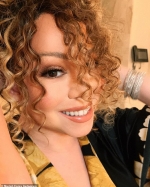 7 of Septeber 2021 г.
Her highly anticipated memoir comes out at the end of September.
But in the meantime, Mariah Carey gave her fans a cute glimpse of herself with daughter Monroe Cannon, nine, on her Instagram on Wednesday.
In the duo of images, the 50-year-old songbird sported adorable ringlets of hair that hung in front of her eyes, as she smiled ear to ear.
другие новости
10 of Septeber 2021 г.

Zoe Ball has announced she has quit Strictly Come Dancing
spin-off show It Takes Two after ten years.
The presenter, 50, has hosted the after show for the
last...
3 of Septeber 2021 г.

He returned to Los Angeles from a lengthy isolation
period in Canada with his wife Hailey.
And it seems Justin Bieber is making use of his home
comforts as he was spotted playing basketball...
13 of Septeber 2021 г.

Kim Kardashian and husband of six years Kanye West
have
'completely' stopped going to marriage counseling,
amid
reports of their looming divorce...
14 of Septeber 2021 г.

Daniel Craig has confessed that he's become an
expert
drinker since becoming James Bond...
14 of Septeber 2021 г.

This year's Academy of Country Music Awards is a bit
different, as the COVID-19 pandemic means no live
audience...
14 of Septeber 2021 г.

Khloe Kardashian is celebrating the holidays in style.
The reality star, 36, posted an ultra glamorous snap of
herself perched beside...
14 of Septeber 2021 г.

Dua Lipa is currently one of the hottest pop stars on the
planet, but she may soon be transitioning to another art
form: acting...
31 of August 2021 г.

Brad Womack had two failed chances at love when he
starred on seasons 11 and 15 of The Bachelor.
And the bar owner is sure to have...
31 of August 2021 г.

He's set to join the cast of EastEnders as Sonia Fowler's
long-lost father Terry Cant...
30 of August 2021 г.

Becoming a first-time mother hasn't quelled Iggy Azalea's
fashion-forward style choices.
On Wednesday, the pop star, 30, kept up with her recent
...