Music news
Kevin Smith says Harvey Weinstein stiffed him on royalties for SEVEN YEARS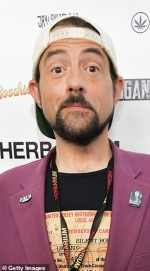 22 of December 2021 г.
Kevin Smith says Harvey Weinstein stiffed him on royalties from his breakout hit Clerks for seven years after the 1994 movie's breakout success with $3.2 million.
The 49-year-old director told Variety how the producer (who's currently serving 23 years in his rape conviction) was heavy-handed in the business relationship with him.
Smith said he 'did encounter' problems getting paid his fair share from Weinstein, who 'was notorious for' stiffing people out of money he owed them.
другие новости
22 of December 2021 г.

Chadwick Boseman 'truly learned to play' trumpet for
his
role in Ma Rainey's Black Bottom, according to his
costar
in the Netflix movie, Colman Domingo...
22 of December 2021 г.

But the two-time Grammy winner has proven that it's never
too late to reinvent yourself...
22 of December 2021 г.

Megan Fox looked like she had time traveled from the
Nineties when she was seen after sitting...
22 of December 2021 г.

Kim Kardashian is certainly her own best advertisement.
The 40-year-old reality star took to Instagram to share
a...
24 of December 2021 г.

LeAnn Rimes looked effortlessly cool as she prepared to
make new music in LA on Tuesday.
The 38-year-old singer stunned in a silky, black slip...
24 of December 2021 г.

People all over the world paid tribute to Martin Luther
King Jr. Day: a federal holiday in the U.S. that marks
the birthday of the civil rights icon...
24 of December 2021 г.

They went public with their relationship in January and
recently enjoyed a romantic vacation in Hawaii.
And on Sunday, Dancing With The Stars pro dance...
24 of December 2021 г.

Ulrika Jonsson has joked that she wants to 'kiss and
have sex with strangers' after the third lockdown ends.
The loosening of England's third national lockdown...
24 of December 2021 г.

Falynn Guobadia's Halloween party nearly got bloody after
she threatened to club LaToya Ali on Sunday's episode of
The Real Housewives of Atlanta...
28 of December 2021 г.

While promoting his new movie The Good Liar, Ian
McKellen
revealed that actress Kate Beckinsale once proposed
marriage to him...