Music news
Brad Pitt 'gives estranged wife Angelina Jolie an ultimatum to sign divorce papers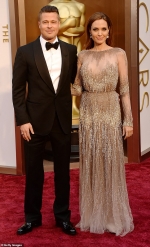 7 of June 2019 г.
Brad Pitt
has reportedly given his estranged wife
Angelina Jolie
an ultimatum to sign their divorce papers or risk facing a 'financial sanction.'
Nearly three years after they made their decision to call it quits, the actor, 55, is said to be increasingly 'sick and tired' of the actress, 44, 'stalling their divorce month after month.'
Brad has now allegedly encouraged his lawyers to ask the judge to finalise a deadline for Angelina to sign the papers, and put in place a hefty fine if she fails to do so.

FM-TV

УСІ НОВИНИ УКРАЇНСЬКОЮ ТУТ

ВСЕ НОВОСТИ ПО-РУССКИ ЗДЕСЬ
другие новости
7 of June 2019 г.

They're good friends who enjoy spending time with each
other every so often. And Robbie Williams seemed to have
a great night...
6 of June 2019 г.

They have just hit screens internationally in their
respective roles as Queen Elizabeth I and Mary, Queen of
Scots...
6 of June 2019 г.

Chris Pratt reportedly celebrated his engagement to
Katherine Schwarzenegger by partying in a London strip
club...
6 of June 2019 г.

Ant McPartlin's addiction battle is set to be explored in
an upcoming Channel 5 documentary...
6 of June 2019 г.

Angelina Jolie spent her Sunday walking hand in hand
with her 10 year old daughter Vivienne...
5 of June 2019 г.

And Catherine Zeta-Jones looked every inch the a-lister
as she touched down at New York's JFK...
5 of June 2019 г.

And Evan Ross and his wife Ashlee Simpson made sure they
made bold fashion statements to attend...
5 of June 2019 г.

Victoria Beckham's whirlwind tour of Qatar contend on
Thursday morning as the fashion designer made...
5 of June 2019 г.

David Beckham debuted a new inking to add to his
impressive collection while attending the latest
Adidas...
10 of June 2019 г.

The highly anticipated Big Little Lies returned for a
second season on HBO on Sunday night...