Music news
Madonna releases grim, religious-themed music video for her fifth single Dark Ballet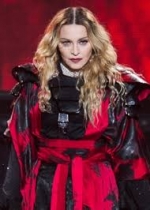 19 of August 2019 г.
Madonna
created a grim, religious-themed music video to promote her new song Dark Ballet, which she released on Friday.
The song is the fifth and final song to be released by the legendary songstress, 60, ahead of her album Madame X coming out on June 14.
In the heart-wrenching clip, rapper and activist Mykki Blanco took on the role of Joan of Arc and faced down several religious figures before being burnt at the stake.

FM-TV

УСІ НОВИНИ УКРАЇНСЬКОЮ ТУТ

ВСЕ НОВОСТИ ПО-РУССКИ ЗДЕСЬ
другие новости
19 of August 2019 г.

The pop star, 24, took to Instagram Tuesday with a slight
snub on David Beckham...
19 of August 2019 г.

He brought his girlfriend to Los Angeles with his
family. And Brooklyn Beckham looked very cosy with his
ladylove Hana Cross at the Twenty party...
19 of August 2019 г.

Her characteristically quirky outfit ensured she caught
the eye at the star-studded Met Gala on Monday evening...
19 of August 2019 г.

Bradley Cooper and Irina Shayk called it quits on
Thursday after four years together and are working out
how to share custody of their daughter, Lea De Seine...
20 of August 2019 г.

She has been enjoying a sun-soaked getaway on the Spanish
island of Ibiza. And Rita Ora was positively glowing as
she arrived...
20 of August 2019 г.

He became Craig Ferguson's successor of The Late Late
Show in 2015.
And it has now been revealed that CBS bosses...
20 of August 2019 г.

He is a doting father to his daughters Natasha, 14, and
Ella, 11.
And Alex Rodriguez has revealed he has a novel way...
20 of August 2019 г.

Peaky Blinders star Cillian Murphy has admitted he finds
playing the role of gangster Tommy Shelby
'exhausting.'...
20 of August 2019 г.

Congratulations are in order for Logic.
The rapper, 29, gave fans a first-hand news scope...
21 of August 2019 г.

'I'm still formulating a lot of things,' the frontman
told Variety in a lengthy interview that only touched on
the subject once...