Music news
Taylor Swift reveals all of her songs are directly influenced by Game of Thrones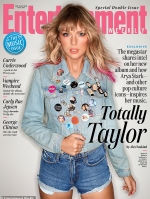 10 of May 2019 г.
As
Game of Thrones
fans await the last two episodes of the series, and
Taylor Swift
fans await her new album, it seems both of these groups have something in common.
During her wide-ranging Entertainment Weekly interview, the 29 year old singer revealed that all of her songs have been influenced by the HBO fantasy series.
The singer said she first started binge-watching the HBO fantasy series in 2016, but she was able to avoid spoilers, and she added a lot of songs on her 2017 album Reputation was influenced by the show.

FM-TV

УСІ НОВИНИ УКРАЇНСЬКОЮ ТУТ

ВСЕ НОВОСТИ ПО-РУССКИ ЗДЕСЬ
другие новости
10 of May 2019 г.

And following his role as Captain America in Avengers:
Endgame...
10 of May 2019 г.

She channeled Lil Kim at the 'camp' themed Met Gala
earlier this week...
10 of May 2019 г.

He's surprised fans in recent days with his unusual
choice of outfits...
10 of May 2019 г.

On Wednesday she revealed the name of her baby son after
giving birth to her first child on Sunday evening...
8 of May 2019 г.

With Ryan Reynolds' new movie Detective Pikachu hitting
theaters on May 10, the comedic actor jokingly pointed
out a 'leak' of his movie...
8 of May 2019 г.

She was due to be competing at the Italian Open, but was
forced to withdraw due to a right shoulder injury...
8 of May 2019 г.

George Clooney joked that he 'got nothing' for his
birthday during a chat show appearance Tuesday in Los
Angeles...
13 of May 2019 г.

They're hot on the promotional trail for the latest film
in the Marvel Cinematic Universe, Avengers: Endgame...
7 of May 2019 г.

As celebrities took their best stab at camp for the 2019
Met Gala this Monday, Demi Moore marched to the beat of
her own drum...
7 of May 2019 г.

Harry Styles delighted fans as he arrived at the Met
Gala 2019 at the Metropolitan Museum of Art in New York
on Monday...