Music news
Taylor Swift reveals all of her songs are directly influenced by Game of Thrones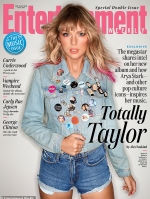 12 of November 2019 г.
As
Game of Thrones
fans await the last two episodes of the series, and
Taylor Swift
fans await her new album, it seems both of these groups have something in common.
During her wide-ranging Entertainment Weekly interview, the 29 year old singer revealed that all of her songs have been influenced by the HBO fantasy series.
The singer said she first started binge-watching the HBO fantasy series in 2016, but she was able to avoid spoilers, and she added a lot of songs on her 2017 album Reputation was influenced by the show.

FM-TV

УСІ НОВИНИ УКРАЇНСЬКОЮ ТУТ

ВСЕ НОВОСТИ ПО-РУССКИ ЗДЕСЬ
другие новости
12 of November 2019 г.

Former One Direction bandmates Liam Payne and Louis
Tomlinson are joining forces for a Gogglebox special
which will air during Stand Up...
12 of November 2019 г.

Scarlett Johansson is set to marry her boyfriend of two
years, Colin Jost. The couple are officially engaged
after two years...
12 of November 2019 г.

The former Pussycat Doll stepped out for some dinner at
the fancy LA dining spot on Tuesday looking fierce and
fabulous...
13 of November 2019 г.

Cameron Diaz showed her casual chic style Tuesday while
leaving a hair salon in West Hollywood, California...
13 of November 2019 г.

Sharon Osbourne mocked Simon Cowell's recent makeover as
she said his teeth are 'too big' and 'one eye's...
13 of November 2019 г.

She attended the premiere for her latest film Charlie's
Angels on Monday night...
13 of November 2019 г.

Caitlyn Jenner has been enjoying her last few days of
luxury before she heads into the jungle on I'm A
Celebrity... Get Me Out Of Here...
11 of November 2019 г.

The Bachelor's Colton Underwood and girlfriend Cassie
Randolph went heavy on the PDA at the 2019 People's ...
11 of November 2019 г.

Honouring everyone from influencers to A-listers, the
People's Choice Awards has the most eclectic guest list
in Hollywood's busy...
14 of November 2019 г.

Nicole Kidman received a Golden Globe nomination earlier
this year for her powerful performance in Destroyer...