Music news
Emmy Rossum belts out Christmas carols as she joins Oscar winner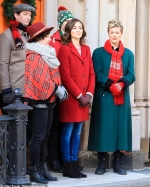 13 of March 2019 г.
She has been happily married to the show's creator Sam Esmail since 2017.
And Emmy Rossum supported Mr Robot as she filmed a cameo in the drama's fourth and final season in New York City on Tuesday, alongside show stars Rami Malek and Christian Slater.
The Shameless actress, 32, looked suitably festive as she joined a group of carol singers to belt out some Christmas tunes, with Oscar winner Rami, 37, and Christian, 49, strolling past.

FM-TV

УСІ НОВИНИ УКРАЇНСЬКОЮ ТУТ

ВСЕ НОВОСТИ ПО-РУССКИ ЗДЕСЬ
другие новости
13 of March 2019 г.

She hasn't had an easy pregnancy so far and recently
cancelled the remainder of her comedy tour due to
complications...
13 of March 2019 г.

She was just granted a restraining order against a man
who pretended to be fictional assassin John Wick...
13 of March 2019 г.

Luke Perry passed away aged 52 on March 4, days after
suffering a huge stroke at his Southern Californian
home...
13 of March 2019 г.

And Nina Dobrev didn't disappoint as she attended the
Marie Claire Change Makers Celebration at Hills...FM-TV

УСІ НОВИНИ УКРАЇНСЬКОЮ ТУТ

ВСЕ НОВОСТИ ПО-РУССКИ ЗДЕСЬ
14 of March 2019 г.

Orlando Bloom has been revealed as the latest star to
read CBeebies bedtime story...
14 of March 2019 г.

Barbra Streisand left James Corden fearing for his life
when she confessed she failed her driving test renewal
three times during...
14 of March 2019 г.

It was revealed on Thursday that she had joined joins
her brother Michael and the Jackson 5 as a member of the
Rock And Roll Hall Of Fame...
14 of March 2019 г.

Keeping Up With the Kardashians starlet Kylie Jenner
lamented the fact she had 'no days off' while...
14 of March 2019 г.

She has made a name for herself on the catwalk, recently
scooping up the award for Model of the Year at the
British Fashion Awards...
12 of March 2019 г.

Jessica Alba was putting on a casual display in a cosy
grey jumper and black velvet trousers, as she headed to a
burger joint for lunch in Hollywood Boulevard...