Music news
Natalie Portman heads to a bakery with daughter Amalia after being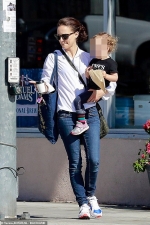 23 of April 2019 г.
She was just granted a restraining order against a man who pretended to be fictional assassin John Wick.
And Natalie Portman appeared to rest a little easier following the news, as she went out with her daughter Amalia, 23 months, to a bakery in Los Angeles on Wednesday.
The Oscar-winning actress, 37, put on a casually chic display as she donned a white button-up shirt over denim jeans.

FM-TV

УСІ НОВИНИ УКРАЇНСЬКОЮ ТУТ

ВСЕ НОВОСТИ ПО-РУССКИ ЗДЕСЬ
другие новости
23 of April 2019 г.

Liam Payne has dismissed claims that he is dating a
sultry Cheryl lookalike after the pair...
23 of April 2019 г.

The Grammy-winner, 71, had to cancel his show at the
Amway Center in Florida as he was dealing with an ear
infection that left him...
24 of April 2019 г.

The 2018 People's Choice Awards kicked off on Sunday
evening in Santa Monica, California, not far from the
raging Malibu fires...
24 of April 2019 г.

But on Wednesday Milo Ventimiglia was also asked about
his show This Is Us, which was recently completely
ignored by the 2019...
24 of April 2019 г.

John Krasinski paid a heartfelt tribute to his wife
Emily Blunt and their children in his acceptance speech
at this...
24 of April 2019 г.

She has sparked speculation she's dating model
Wellington Grant. And Kaia Gerber did little to quell the
rumours...
24 of April 2019 г.

It was the most glittering night in the movie industry,
which marked the highlight of their...
22 of April 2019 г.

And Chris Pratt and Katherine Schwarzenegger looked every
inch the loved up couple as they were spotted on their
way to Easter Sunday service in Los Angeles...
22 of April 2019 г.

Pop superstar Pink made an appearance on The Ellen
DeGeneres Show that airs on Monday, April 22...
22 of April 2019 г.

She's just taken her second vacation in Bali, Indonesia.
And Kim Kardashian put on an eye-popping display as she
revealed her holiday photos on Sunday...