Music news
The moment BRAD PITT sneaked into ex-wife Jennifer Aniston's star-studded 50th birthday party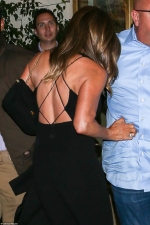 11 of April 2019 г.
They remained friends throughout his ill-fated relationship with
Angelina Jolie
.
And eagle-eyed onlookers spotted Brad Pitt, 55, sneaking past the paparazzi as he joined the stars at ex-wife Jennifer Aniston's 50th birthday party in Los Angeles on Saturday night.
Actor Brad, who's reportedly been quietly dating Charlize Theron since January, went incognito in a flat cap as he rushed inside Jennifer's favorite West Hollywood spot, the historic Sunset Tower.

FM-TV

УСІ НОВИНИ УКРАЇНСЬКОЮ ТУТ

ВСЕ НОВОСТИ ПО-РУССКИ ЗДЕСЬ
другие новости
11 of April 2019 г.

She is the musician of the moment who welcomed her first
daughter four months ago...
11 of April 2019 г.

Three-time Grammy winner Pink revealed she made it easy
for her husband Carey Hart planning her Valentine's Day
gift this year...
11 of April 2019 г.

She never fails to turn heads with her sensational sense
of style...
11 of April 2019 г.

Beyonce and Jay-Z led the cavalcade of celebrity hot
couples at the Roc National pre-Grammy brunch in Los
Angeles this Saturday...
12 of April 2019 г.

It seems as if Ja Rule hasn't learned anything from his
participation in the disastrous Fyre Festival in 2017...
12 of April 2019 г.

She recently enjoyed a Caribbean vacation with her teen
daughter. Now back in LA, Courteney Cox was snapped...
12 of April 2019 г.

His struggle with alcohol and drug addiction has been
well documented. And Charlie Sheen reflected on his
public...
12 of April 2019 г.

The Italian Stallion had a charming night out with his
family for a fine Italian dinner. Sylvester Stallone was
spotted at Madeo...
12 of April 2019 г.

She's become known for her transformative and challenging
film roles. Lily Collins dove into her recent...
10 of April 2019 г.

Yet Rachel McCord also drew attention to her incredible
physique in the stunning snaps as she donned...