Music news
Drew Barrymore shows off secret ability while promoting new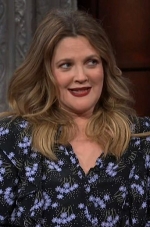 1 of March 2019 г.
Drew Barrymore showed off her secret feet talent on Tuesday during a chat show appearance.
The 43-year-old actress wore a long floral print dress while on The Late Show With Stephen Colbert to promote her new talent competition show The World's Best.
Stephen, 54, welcomed her to the CBS family as the series will premiere on the same network after the Super Bowl on February 3.

FM-TV

УСІ НОВИНИ УКРАЇНСЬКОЮ ТУТ

ВСЕ НОВОСТИ ПО-РУССКИ ЗДЕСЬ
другие новости
1 of March 2019 г.

She has been contemplating retiring from acting in recent
years and there was even talk that her upcoming sequel to
Maleficent may be her last starring role...
28 of February 2019 г.

She was first romantically linked to an Etonian
millionaire with Royal...
28 of February 2019 г.

And both Felicity Jones and Saorise Ronan chose to
radiate in white, as they stepped out at the Governors
Awards in LA on Sunday...
28 of February 2019 г.

But Madonna proved that she knows how to get the tongues
wagging even completely bundled up...
28 of February 2019 г.

Lady Gaga's heavily redacted deposition as part of the
ongoing legal battle between Kesha...
27 of February 2019 г.

She insisted she is 'so busy' running her empire and
doesn't have time to date following her split from her
fiancé Chris Zylka...
27 of February 2019 г.

The actress, 34, left the jacket of her scarlet silk suit
wide open to daring effect as she joined model Charlotte
McKinney, 25 at the bash...
4 of March 2019 г.

She made a rare public appearance in New York City with
all six of the children she shares with ex-husband Brad
Pitt...
4 of March 2019 г.

Kate Beckinsale, 45, and Pete Davidson, 25, left no
doubt as to their romantic status when they attended a
hockey game together in New York on Sunday...
4 of March 2019 г.

He's a fan favourite on Strictly Come Dancing after
joining the professional line up in 2013...