Music news
Jada Pinkett Smith reveals race 'always' factored in her past romances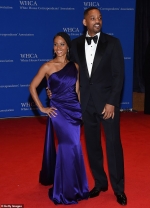 8 of July 2019 г.
Jada Pinkett Smith has revealed that race 'always' caused the end of her relationships with white men.
The 47-year-old actress — who has been married to Will Smith since 1997 — dated white men in the past, but the romances never lasted because they had 'no idea' about oppression, and she always had different views on the subject to her partners.
Speaking on her Red Table Talk Facebook Watch show, the Girls Trip star said: 'I have dated some really wonderful white men but it was interesting in that you're dating someone who has no idea what oppression is.

FM-TV

УСІ НОВИНИ УКРАЇНСЬКОЮ ТУТ

ВСЕ НОВОСТИ ПО-РУССКИ ЗДЕСЬ
другие новости
8 of July 2019 г.

Dolph Lundgren has revealed he used to have group sex
with Grace Jones and 'four or five' other women - but
complained it left him too tired for work...
8 of July 2019 г.

John Krasinski paid a heartfelt tribute to his wife
Emily Blunt and their children in his acceptance speech
at this...
8 of July 2019 г.

She was a 'mane attraction' at Thursday afternoon's
Moschino show...
8 of July 2019 г.

Last week he revealed that he was suffering from a
sprained ankle. But, Elton John, 72, didn't let his
injury bring him down as he was spotting in Milan...
9 of July 2019 г.

She helped put 'super' in the supermodel moniker in the
late 1980s and 90s...
9 of July 2019 г.

Simon Cowell has revealed he's already preparing his son
Eric, four, to inherit his music and TV empire...
9 of July 2019 г.

She recently graced the big screen in the sequel
Mama
Mia! Here We Go Again...
9 of July 2019 г.

Ariana Grande stepped out with some extra height in her
step, thanks to some custom Nike platform sneakers...
9 of July 2019 г.

She's expected to attend the lavish Met Gala in New York
City on Monday night...
10 of July 2019 г.

Daniel Craig has confessed that he's become an expert
drinker since becoming James Bond...