Music news
Paris Hilton, 37, sparkles in sequin figure-hugging number as she joins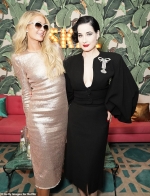 5 of December 2018 г.
She insisted she is 'so busy' running her empire and doesn't have time to date following her split from her fiancé Chris Zylka.
And Paris Hilton kept up her glamorous image when she attended The American Meme screening alongside Dita Von Teese, in Los Angeles on Tuesday.
The socialite, 37, was every inch the dazzling diva in a rose gold sequinned number as she cuddled up to the ever-glamorous Dita, 46.

FM-TV

УСІ НОВИНИ УКРАЇНСЬКОЮ ТУТ

ВСЕ НОВОСТИ ПО-РУССКИ ЗДЕСЬ
другие новости
5 of December 2018 г.

Miley Cyrus has been hit with heartbreak once again as
it was reported her storage unit in the San Fernando
Valley was broken into...
5 of December 2018 г.

Paris and Nicky Hilton attended Rihanna's annual Diamond
Ball in NYC on Thursday night...
5 of December 2018 г.

The most glamorous names in Hollywood slipped on white
hot gowns for the 70th annual...
5 of December 2018 г.

Dolph Lundgren has revealed he used to have group sex
with Grace Jones and 'four or five' other women - but
complained it left him too tired for work...
6 of December 2018 г.

She made history by becoming the first model with
vitiligo to walk in the Victoria's Secret Fashion Show
last month...
6 of December 2018 г.

The 57-year-old actress will be held at a inpatient
treatment facility for an indefinite period, according to
Radar...
6 of December 2018 г.

Katherine Jenkins has confirmed her Carousel co-star
Alfie Boe did write the C-word across a poster of her in
an 'upsetting' incident...
6 of December 2018 г.

She burst onto the Hollywood scene as the breakout star
of The Coen Brothers' True Grit in 2011, before embarking
on a successful singing and acting career...
6 of December 2018 г.

Olivia Colman, Claire Foy and Emily Blunt are just three
of the British talents who received Golden Globe
nominations on Thursday...
4 of December 2018 г.

Production is under way on director Rian Johnson's new
crime drama Knives Out, with the first photos...