Music news
Miley Cyrus hit with heartbreak as thieves steal $10,000 worth of guitars from her storage unit...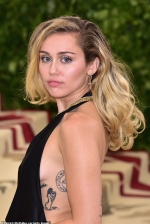 17 of April 2019 г.
Miley Cyrus
has been hit with heartbreak once again as it was reported her storage unit in the San Fernando Valley was broken into.
Last month, the Nothing Breaks Like A Heart singer's home, which she shares with fiancé Liam Hemsworth, in Malibu was destroyed by the massive Woolsey wildfire.
Now following the loss of her home, TMZ have reported that Miley's stoarge unit was targeted in October with thieves making off with over $10,000 worth of guitars and nothing else.

FM-TV

УСІ НОВИНИ УКРАЇНСЬКОЮ ТУТ

ВСЕ НОВОСТИ ПО-РУССКИ ЗДЕСЬ
другие новости
17 of April 2019 г.

He was previously known for his clean-cut appearance.
But Tom Hiddleston looked worlds apart from his former
self as he sported...
17 of April 2019 г.

The nominations for the 61st Grammy Awards were
announced on Friday in a glittering ceremony...
17 of April 2019 г.

She has become something of a style icon since walking
the red carpet for the Four Weddings...
17 of April 2019 г.

She's been busy in recent weeks filming her new TV series
with Gabrielle Union...
18 of April 2019 г.

Last week he revealed that he was suffering from a
sprained ankle. But, Elton John, 72, didn't let his
injury bring him down as he was spotting in Milan...
18 of April 2019 г.

He's the beloved anti-hero whose foul-mouthed nature and
dark humour has made him a fan favourite...
18 of April 2019 г.

Hollywood superstar Mickey Rourke was showing off his
smooth complexion as he stepped out in Beverly Hills on
Wednesday...
18 of April 2019 г.

Her body-baring looks have evolved over the years with
the help of her husband Kanye West...
18 of April 2019 г.

Victoria Beckham marked her 45th birthday in style on
Wednesday, celebrating in Los Angeles...
16 of April 2019 г.

James Franco was snapped filming the HBO series titled
The Deuce in New York Cityon Monday, smiling as he donned
a rugged...