Music news
Dua Lipa stuns in jaw-dropping photoshoot for Vogue as she gives her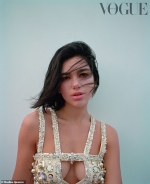 12 of February 2019 г.
She's one of the biggest pop stars of the moment with a string of hits to her name.
And Dua Lipa, 23, has opened up about her thoughts on feminism, saying she doesn't believe it is 'man-hating' and the things she tells herself to feel confident in her body.
Gracing the January cover of British VOGUE, the One Kiss singer told the publication she feels the accomplishments of women have been played down in history.
She said: 'Feminism to me is not man-hating, it's just being like "we deserve the same opportunities."'
'You hear so much about all these strong important men who have changed the world, even in history and the story of mankind, somehow the f*****g story starts with: "Well, the man did this."

FM-TV

УСІ НОВИНИ УКРАЇНСЬКОЮ ТУТ

ВСЕ НОВОСТИ ПО-РУССКИ ЗДЕСЬ
другие новости
12 of February 2019 г.

Halsey has slammed Victoria's Secret after the lingerie
brand's chief marketing officer made insensitive comments
about transgender models...
12 of February 2019 г.

Miley Cyrus has been hit with heartbreak once again as
it was reported her storage unit in the San Fernando
Valley was broken into...
12 of February 2019 г.

The nominations for the 61st Grammy Awards were
announced on Friday in a glittering ceremony...
12 of February 2019 г.

She aspires to gather all the talented women together to
take more charge in the music industry with new
initiative She Is The Music...
13 of February 2019 г.

It exceeded all expectations in the US with a staggering
$50 million opening weekend...
13 of February 2019 г.

The Grammy-winner, 71, had to cancel his show at the
Amway Center in Florida as he was dealing with an ear
infection that left him...
13 of February 2019 г.

Michael Sheen has revealed his relationship with Sarah
Silverman indirectly ended because of Brexit and Donald
Trump's presidency...
13 of February 2019 г.

He was previously known for his clean-cut appearance.
But Tom Hiddleston looked worlds apart from his former
self as he sported...
13 of February 2019 г.

Robbie Williams has admitted his three weeks away in
South America while on tour damaged his performers...
11 of February 2019 г.

She is the musician of the moment who welcomed her first
daughter four months ago...