Music news
Dua Lipa stuns in jaw-dropping photoshoot for Vogue as she gives her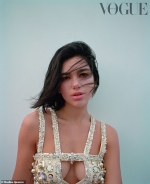 12 of February 2019 г.
She's one of the biggest pop stars of the moment with a string of hits to her name.
And Dua Lipa, 23, has opened up about her thoughts on feminism, saying she doesn't believe it is 'man-hating' and the things she tells herself to feel confident in her body.
Gracing the January cover of British VOGUE, the One Kiss singer told the publication she feels the accomplishments of women have been played down in history.
She said: 'Feminism to me is not man-hating, it's just being like "we deserve the same opportunities."'
'You hear so much about all these strong important men who have changed the world, even in history and the story of mankind, somehow the f*****g story starts with: "Well, the man did this."

FM-TV

УСІ НОВИНИ УКРАЇНСЬКОЮ ТУТ

ВСЕ НОВОСТИ ПО-РУССКИ ЗДЕСЬ
другие новости
12 of February 2019 г.

Halsey has slammed Victoria's Secret after the lingerie
brand's chief marketing officer made insensitive comments
about transgender models...
12 of February 2019 г.

She aspires to gather all the talented women together to
take more charge in the music industry with new
initiative She Is The Music...
13 of February 2019 г.

Michael Sheen has revealed his relationship with Sarah
Silverman indirectly ended because of Brexit and Donald
Trump's presidency...
14 of February 2019 г.

Paris and Nicky Hilton attended Rihanna's annual Diamond
Ball in NYC on Thursday night...
14 of February 2019 г.

They are good friends, two of the most glamorous stars
in showbiz and both previously dated Formula 1...
14 of February 2019 г.

She was recently seen kissing Playboy model Kate
Harrison following a night out in Malibu...
14 of February 2019 г.

She had cut an exquisite appearance on the red carpet of
the British Fashion Awards with her husband ...
10 of February 2019 г.

And Lily Collins more than stood out among the A-list as
she hit the red carpet for the 2019...
15 of February 2019 г.

She is one of the most well-beloved actresses on the
popular women's network...
8 of February 2019 г.

Rose McGowan shared powerful images on social media this
week as it was claimed that two of her former ...