Music news
Halsey SLAMS Victoria's Secret Show following transphobic comments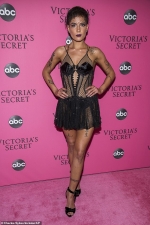 3 of December 2018 г.
Halsey has slammed
Victoria's Secret
after the lingerie brand's chief marketing officer made insensitive comments about transgender models.
The New York native performed at the brand's coveted runway show last month, which was aired on Sunday night in the US, alongside Shawn Mendes, Bebe Rexa and The Chainsmokers.
Despite her participation in the show, Halsey, who is bisexual, took to Instagramafter the lingerie special and criticised the retailer for it's lack of 'inclusivity' in regards to trans people, which she stated is 'based on stereotype.'

FM-TV

УСІ НОВИНИ УКРАЇНСЬКОЮ ТУТ

ВСЕ НОВОСТИ ПО-РУССКИ ЗДЕСЬ
другие новости
3 of December 2018 г.

She's believed to be in the midst of a high-profile
romance after being linked to A-list actor Andrew
Garfield last week...
3 of December 2018 г.

She arrived for the Pre-Fall 2019 Versace presentation in
a stunning red dress that molded itself to her
fabulous...
3 of December 2018 г.

So it was no wonder Justin Bieber looked absolutely
delighted as he headed to relax with a spa appointment...
3 of December 2018 г.

Robbie Williams has admitted his three weeks away in
South America while on tour damaged his performers...
4 of December 2018 г.

Production is under way on director Rian Johnson's new
crime drama Knives Out, with the first photos...
4 of December 2018 г.

And Victoria Beckham had all eyes on her as she stepped
out to support husband David Beckham...
4 of December 2018 г.

Samantha Morton has given fans a first look at her
shaved head as she prepares for a new role in long-
running show The Walking Dead...
4 of December 2018 г.

The 48-year-old superstar looked incredible in an extreme
plunging white gown with glittering embellishment as she
performed...
4 of December 2018 г.

And Dua Lipa, 23, has opened up about her thoughts on
feminism, saying she doesn't believe it is 'man-hating'
and...
5 of December 2018 г.

She insisted she is 'so busy' running her empire and
doesn't have time to date following her split from her
fiancé Chris Zylka...