Music news
Halsey SLAMS Victoria's Secret Show following transphobic comments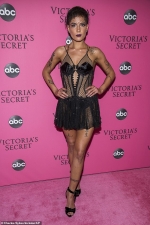 12 of February 2019 г.
Halsey has slammed
Victoria's Secret
after the lingerie brand's chief marketing officer made insensitive comments about transgender models.
The New York native performed at the brand's coveted runway show last month, which was aired on Sunday night in the US, alongside Shawn Mendes, Bebe Rexa and The Chainsmokers.
Despite her participation in the show, Halsey, who is bisexual, took to Instagramafter the lingerie special and criticised the retailer for it's lack of 'inclusivity' in regards to trans people, which she stated is 'based on stereotype.'

FM-TV

УСІ НОВИНИ УКРАЇНСЬКОЮ ТУТ

ВСЕ НОВОСТИ ПО-РУССКИ ЗДЕСЬ
другие новости
12 of February 2019 г.

And Dua Lipa, 23, has opened up about her thoughts on
feminism, saying she doesn't believe it is 'man-hating'
and...
12 of February 2019 г.

She aspires to gather all the talented women together to
take more charge in the music industry with new
initiative She Is The Music...
13 of February 2019 г.

Michael Sheen has revealed his relationship with Sarah
Silverman indirectly ended because of Brexit and Donald
Trump's presidency...
14 of February 2019 г.

Paris and Nicky Hilton attended Rihanna's annual Diamond
Ball in NYC on Thursday night...
14 of February 2019 г.

They are good friends, two of the most glamorous stars
in showbiz and both previously dated Formula 1...
14 of February 2019 г.

She was recently seen kissing Playboy model Kate
Harrison following a night out in Malibu...
14 of February 2019 г.

She had cut an exquisite appearance on the red carpet of
the British Fashion Awards with her husband ...
10 of February 2019 г.

And Lily Collins more than stood out among the A-list as
she hit the red carpet for the 2019...
15 of February 2019 г.

She is one of the most well-beloved actresses on the
popular women's network...
8 of February 2019 г.

Rose McGowan shared powerful images on social media this
week as it was claimed that two of her former ...