Music news
Robbie Williams blames himself for Acacia & Aaliyah failing to reach the final after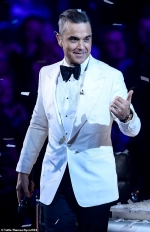 8 of April 2019 г.
Robbie Williams has admitted his three weeks away in South America while on tour damaged his performers' chances of making it all the way on The X Factor.
The TV judge, 44, was away from the ITV reality series while he toured in South America and thinks he was 'delusional' to think he could coach his performers from half way across the world.
The singer's comments come after after Dalton Harris, 24, was crowned winner in Sunday night's final after being mentored to success by Louis Tomlinson.

FM-TV

УСІ НОВИНИ УКРАЇНСЬКОЮ ТУТ

ВСЕ НОВОСТИ ПО-РУССКИ ЗДЕСЬ
другие новости
8 of April 2019 г.

They're hot on the promotional trail for the latest film
in the Marvel Cinematic Universe, Avengers: Endgame...
8 of April 2019 г.

She's fresh from the set of Saturday Night Live, where
she joined her Game Of Thrones co-star Kit Harington for
a fun-filled appearance...
8 of April 2019 г.

Justin Bieber has thrown shade at fellow Canadian
heartthrob Shawn Mendes after he claimed...
8 of April 2019 г.

Blake went with a more casual look than his partner,
mixing a simple pair of dark blue jeans with a classy...
9 of April 2019 г.

The Walking Dead fans have been speculating about a
secret Star Wars cameo on the hit AMC show...
9 of April 2019 г.

She helped put 'super' in the supermodel moniker in the
late 1980s and 90s...
9 of April 2019 г.

She's playing the iconic nanny 54 years after Julie
Andrews made the role famous...
9 of April 2019 г.

And on Sunday, Penelope Disick spent time with her dad
Scott doing some shopping in Beverly Hills...
9 of April 2019 г.

He's made a name for himself in critically acclaimed
films like Call Me By Your Name and the Ruth Bader
Ginsberg biopic On The Basis Of Sex...
10 of April 2019 г.

Yet Rachel McCord also drew attention to her incredible
physique in the stunning snaps as she donned...