Music news
Robbie Williams blames himself for Acacia & Aaliyah failing to reach the final after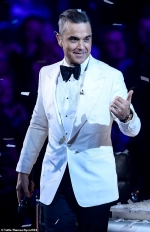 13 of February 2019 г.
Robbie Williams has admitted his three weeks away in South America while on tour damaged his performers' chances of making it all the way on The X Factor.
The TV judge, 44, was away from the ITV reality series while he toured in South America and thinks he was 'delusional' to think he could coach his performers from half way across the world.
The singer's comments come after after Dalton Harris, 24, was crowned winner in Sunday night's final after being mentored to success by Louis Tomlinson.

FM-TV

УСІ НОВИНИ УКРАЇНСЬКОЮ ТУТ

ВСЕ НОВОСТИ ПО-РУССКИ ЗДЕСЬ
другие новости
13 of February 2019 г.

It exceeded all expectations in the US with a staggering
$50 million opening weekend...
13 of February 2019 г.

The Grammy-winner, 71, had to cancel his show at the
Amway Center in Florida as he was dealing with an ear
infection that left him...
13 of February 2019 г.

Michael Sheen has revealed his relationship with Sarah
Silverman indirectly ended because of Brexit and Donald
Trump's presidency...
13 of February 2019 г.

He was previously known for his clean-cut appearance.
But Tom Hiddleston looked worlds apart from his former
self as he sported...
14 of February 2019 г.

Paris and Nicky Hilton attended Rihanna's annual Diamond
Ball in NYC on Thursday night...
14 of February 2019 г.

'I'm still formulating a lot of things,' the frontman
told Variety in a lengthy interview that only touched on
the subject once...
14 of February 2019 г.

They are good friends, two of the most glamorous stars
in showbiz and both previously dated Formula 1...
14 of February 2019 г.

She was recently seen kissing Playboy model Kate
Harrison following a night out in Malibu...
14 of February 2019 г.

She had cut an exquisite appearance on the red carpet of
the British Fashion Awards with her husband ...
12 of February 2019 г.

Halsey has slammed Victoria's Secret after the lingerie
brand's chief marketing officer made insensitive comments
about transgender models...