Music news
Kylie Jenner poses as the QUEEN in skintight gold bodycon dress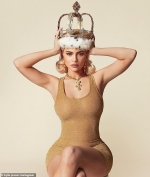 7 of February 2019 г.
Her annual calendar drops on Friday.
And Kylie Jenner decided to tease her 2019 photoshoot to her 119 million followers on her Instagram account on Thursday's Thanksgiving.
The make-up entrepreneur, 21, looked every inch the reality royalty as she posed as the Queen for one sultry look.
Kylie Jenner was recently named the most powerful celebrity fashion influencer of 2018, according to Lyst's annual Fashion Report, with Kim Kardashian and the Duchess of Sussex nabbing the second and third spots.
The cosmetics mogul may be lauded for her make-up skills but it would appear that her fashion prowess is just as much of a force to be reckoned with! From I Am Gia vinyl trousers to bespoke Balmain gowns, the youngest Jenner regularly dons both high-street and high-end and has amassed a fervent fashion following in the process.

FM-TV

УСІ НОВИНИ УКРАЇНСЬКОЮ ТУТ

ВСЕ НОВОСТИ ПО-РУССКИ ЗДЕСЬ
другие новости
7 of February 2019 г.

He is known for his diverse range of roles, starring in
Sherlock, Star Trek and even The Grinch...
7 of February 2019 г.

She has been his rock ever since they got married 12
years ago...
7 of February 2019 г.

So Karl Lagerfeld was naturally a guest of honour on
Thursday as he turned on the Christmas...
8 of February 2019 г.

Rose McGowan shared powerful images on social media this
week as it was claimed that two of her former ...
8 of February 2019 г.

And Jennifer Lopez, 49, couldn't contain her emotion as
she marked two years with boyfriend Alex Rodriguez, 43...
6 of February 2019 г.

Victoria Beckham made a subdued appearance in Paris on
Wednesday morning as her former Spice Girls bandmates
continued...
6 of February 2019 г.

Love Island's Gabby Allen spilled all about her
engagement plans, diamond ring shapes and buying...
6 of February 2019 г.

She has starred in endless critically-acclaimed films
throughout her 35-year career, including Moulin Rouge,
The Hours and Lion...
5 of February 2019 г.

She has a busy 2019 ahead of her, with three movies
slated for release...
5 of February 2019 г.

Sophie Ellis-Bextor has been left heartbroken after her
beloved grandmother Sybil died aged 91 ...