Music news
Ex Sky Sports presenter Simon Thomas reveals he is in the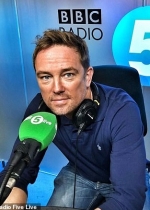 6 of November 2018 г.
Simon Thomas has revealed he is in 'the early stages' of a new relationship, a year after the death of his wife, Gemma, to cancer when she was just aged 40.
Speaking to BBC Radio 5 Live, the ex sports presenter, 45, who moved millions with his heartbreaking comments in the wake of his wife's death, said his new relationship has been 'an incredible support' for him.
The father-of-one admitted he could be falling in love, but said Gemma could never be replaced, saying: 'I'm very aware she was someone I didn't know before and have got to know over the last few weeks and months.

FM-TV

ВСЕ НОВОСТИ ПО-РУССКИ ЗДЕСЬ

ALL NEWS IN ENGLISH HERE
другие новости
6 of November 2018 г.

Cheryl released an exciting teaser of her new single,
Love Made Me Do It on Instagram on Tuesday...
6 of November 2018 г.

Josie Gibson was unable to attend the last ever Big
Brother's Bit On The Side on Monday night...
6 of November 2018 г.

He is known for his diverse range of roles, starring in
Sherlock, Star Trek and even The Grinch...
6 of November 2018 г.

Katie Price is determined to set the record straight,
following a stint in rehab and her bankruptcy woes, in a
one-hour special...
7 of November 2018 г.

Ariana Grande was seen reminiscing about her ex-
boyfriend Mac Miller, after fans unearthed...
7 of November 2018 г.

It exceeded all expectations in the US with a staggering
$50 million opening weekend...
7 of November 2018 г.

It's been seven years since Draco Malfoy put down his
magic wand, but the man responsible for bringing JK
Rowling's...
7 of November 2018 г.

Victoria Beckham made a subdued appearance in Paris on
Wednesday morning as her former Spice Girls bandmates
continued...
7 of November 2018 г.

She has returned to Cornwall with her on-screen husband
Aidan Turner...
5 of November 2018 г.

He's used to mixing with the most A-list of stars on his
Late Late show, but James Corden enjoyed some...