Music news
Scarlett Johansson dazzles in plunging white gown as she leads best dressed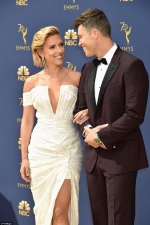 5 of December 2018 г.
The most glamorous names in Hollywood slipped on white hot gowns for the 70th annual
Emmy Awards
, which honors excellence in television.
Scarlett Johansson, Jessica Biel and Penelope Cruz led the best dressed stars on the red carpet in the same neutral shade at the Microsoft Theater in Los Angeles on Monday night.
Scarlett, 33, sizzled in a white Balmain dress featuring a plunging necklace and ruched skirt, while Jessica and Penelope commanded attention in their eye-catching gowns in the same hue.

FM-TV

УСІ НОВИНИ УКРАЇНСЬКОЮ ТУТ

ВСЕ НОВОСТИ ПО-РУССКИ ЗДЕСЬ
другие новости
5 of December 2018 г.

She insisted she is 'so busy' running her empire and
doesn't have time to date following her split from her
fiancé Chris Zylka...
5 of December 2018 г.

Dolph Lundgren has revealed he used to have group sex
with Grace Jones and 'four or five' other women - but
complained it left him too tired for work...
6 of December 2018 г.

She made history by becoming the first model with
vitiligo to walk in the Victoria's Secret Fashion Show
last month...
6 of December 2018 г.

The 57-year-old actress will be held at a inpatient
treatment facility for an indefinite period, according to
Radar...
6 of December 2018 г.

Katherine Jenkins has confirmed her Carousel co-star
Alfie Boe did write the C-word across a poster of her in
an 'upsetting' incident...
6 of December 2018 г.

She burst onto the Hollywood scene as the breakout star
of The Coen Brothers' True Grit in 2011, before embarking
on a successful singing and acting career...
6 of December 2018 г.

Olivia Colman, Claire Foy and Emily Blunt are just three
of the British talents who received Golden Globe
nominations on Thursday...
4 of December 2018 г.

Production is under way on director Rian Johnson's new
crime drama Knives Out, with the first photos...
4 of December 2018 г.

And Victoria Beckham had all eyes on her as she stepped
out to support husband David Beckham...
4 of December 2018 г.

Samantha Morton has given fans a first look at her
shaved head as she prepares for a new role in long-
running show The Walking Dead...