Music news
Ariana Grande attends her first Met Gala in Vera Wang tribute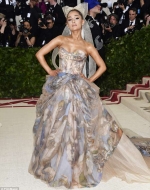 8 of May 2018 г.
This Monday's
Met Gala
in
New York
celebrates an exhibition that includes pieces from the Sistine Chapel sacristy.
And when Ariana Grande attended the annual event for the first time, her Vera Wang dress paid tribute to the chapel's magnificent artwork.
The 24-year-old pop star's off-the-shoulder gown was splashed with a likeness of Michelangelo's Last Judgment, a fresco on the Sistine Chapel's altar wall.
другие новости
8 of May 2018 г.

Nicki Minaj dressed in devilish red on Monday for the
Catholic-themed Met Gala in New York City...
8 of May 2018 г.

She's arguably one of Britain's most iconic models after
being discovered 30 years ago at just 14-years-old...
8 of May 2018 г.

Madonna has drawn notoriety throughout her career for her
irreverent use of Catholic imagery in her songs and music
videos...
8 of May 2018 г.

She's a red carpet regular who never seems to
disappoint...
10 of May 2018 г.

She is set to wed the love of her life Chris Zylka in
Beverly Hills later this year...
10 of May 2018 г.

Their on-again, off-again relationship came to its most
recent end in March...
10 of May 2018 г.

Amber Heard certainly knows how to make an impression...
10 of May 2018 г.

Caitlyn Jenner blasted critics calling her 'too
privileged' to speak for the transgender community...
10 of May 2018 г.

She's a Victoria's Secret Angel who's known for her
stylish looks both on and off the catwalk...
4 of May 2018 г.

Gazprom cuts gas transit through Ukraine by 9.2% since
beginning of year...