Music news
Taylor Swift tests out rocket sled that will whisk her between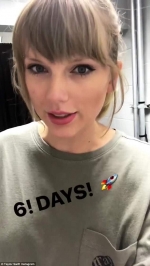 3 of May 2018 г.
They don't call her Swift for nothing.
On Wednesday Taylor revealed a new toy she is going to be deploying at her upcoming tour: the rocket sled.
The 28-year-old has been treating fans to behind the scenes sneak peeks of the Reputation Tour in the 12 days leading up to kickoff.

FM-TV

УСІ НОВИНИ УКРАЇНСЬКОЮ ТУТ

ВСЕ НОВОСТИ ПО-РУССКИ ЗДЕСЬ
другие новости
3 of May 2018 г.

Rose McGowan was snapped leaving a hotel in New York City
on Wednesday in a no-nonsense ensemble...
3 of May 2018 г.

Two days after Miley Cyrus publicly took back her
apology for posing backless on the cover...
3 of May 2018 г.

She's been showcasing her fit figure after losing the 50
lbs she gained for Tully...
3 of May 2018 г.

Kanye West cut a call short to wife Kim Kardashian on
Tuesday to engage in a heartfelt chat with a member of
the paparazzi...
4 of May 2018 г.

Gazprom cuts gas transit through Ukraine by 9.2% since
beginning of year...
4 of May 2018 г.

Meeting of Trilateral Contact Group starts in Minsk...
4 of May 2018 г.

Black Sea Basin countries recognize ports in occupied
Crimea 'closed'...
2 of May 2018 г.

Brooklyn Beckham was seen making out with Playboy beauty
Lexi Wood in early April, before even announcing his
split from on-off love Chloe Grace Moretz...
2 of May 2018 г.

She's the bubbly auburn haired beauty who's currently
promoting her new film Woman Walks Ahead...
2 of May 2018 г.

The first promo for Tiffany Haddish's stint as host of
the MTV Movie and TV Awards 2018 is finally here...